The Ringing of the Bell Commands You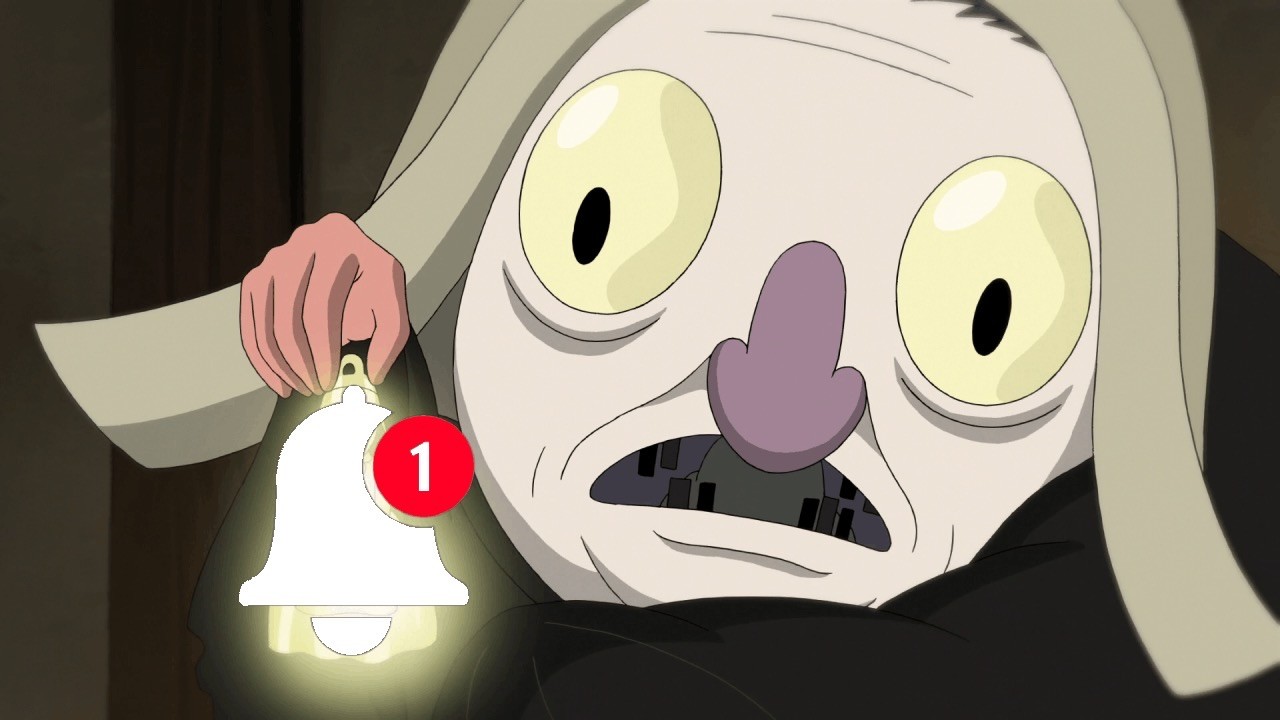 The loveliest lies of all are the ones we tell ourselves, now unceasingly aided and abetted by technology valued into the billions of dollars.
All for little ol' me? Yep. You're worth it. At least in combination with everyone else your value is infinite. Unfathomable resources are right now being devoted to commanding your attention.
Isn't it all a bit pointless? Don't get me wrong, the power wielded by the phone-industrial complex is undeniably immense. And what do they do with it? Besides undermining democracy and eroding the human ability to pay attention and collecting billions of dollars, what do these attention hoarders do with our focus once they've got control of us? I think I bought a shirt once off Instagram. Yeah, that's kinda all there is to it.
I'll beat them at their own game It's natural to want to stand up and offer meaning within a meaningless system. Here are two attempts that caught my eye for different reasons: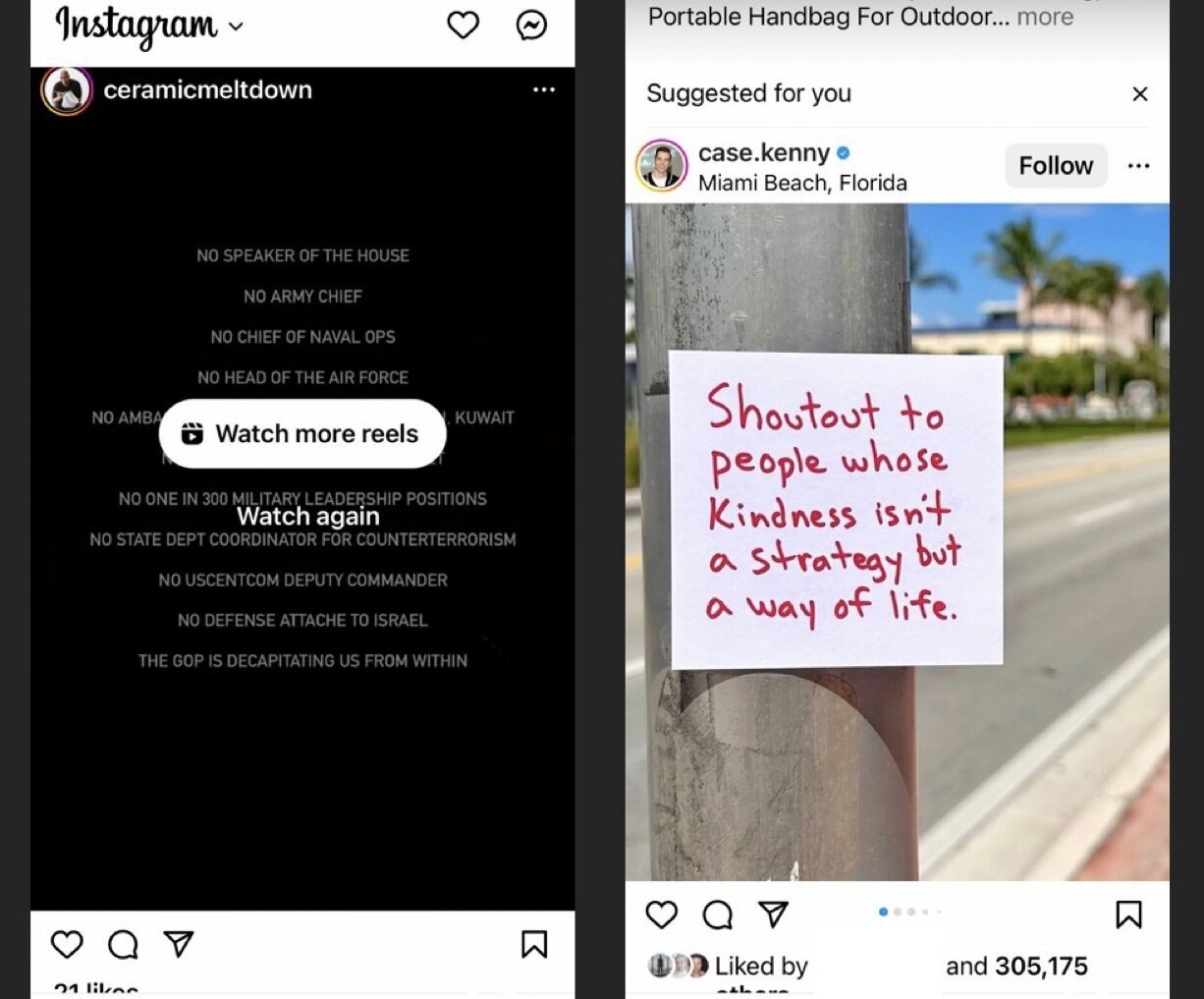 On the left is what happens when someone has shared a text post as a video, most likely to try to get more attention. Instagram promotes its videos (that it calls Reels) more than anything else, probably trying to prevent its users' attentions wandering to TikTok. So this account owner hopes to outsmart the rigged system by sharing an all-text post as a video. Of course it doesn't work so great. The post on the right is one of many that fall under the category, "Meme your way to mindfulness!" This verified account with 756,000 followers offers a "Shoutout to people whose kindness isn't a strategy but a way of life." A cynic might wonder whether such an account employs no strategy. But I'm not looking to criticize individual users. We are all entitled to (and susceptible to) thinking our words are worth communicating. I'm typing this now for a potential audience that I hope materializes. I'm grateful to be sharing these words in a new place with laudable guiding principles.
No reason to belabor the point that I find Meta media the epitome of unkind and strategic. But even in my new happy home I'll see posts like this: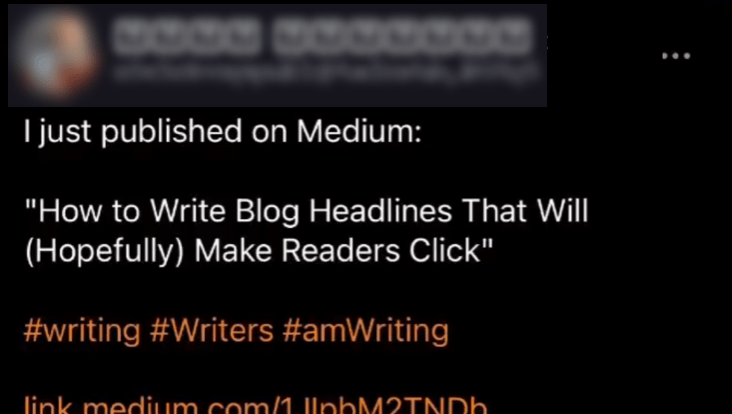 I know it's an expression, but the word make in that headline is a problem for me. The expressions we use reflect our world view. I am working to become someone who never wishes to make anyone do anything. Accepting others' autonomy is essential to my emotional health. It never sat well with me that my self-employed career of art—a path specifically chosen for psychological healing—depended on making other people do things. That's an icky idea that social media made exponentially worse. What a waste of a brief moment of interaction in this wild world to fill it with:
I've got your attention right now but what I really want you to do is...
bit ☑️ follow this link   ☑️ join me elsewhere   ☑️ buy something!
I'm calling out this behavior because it is (or has been) my own. I blurred the account name up above because (again) I'm really not out to criticize others personally.1 I don't even think of this as anyone's personal behavior as much as trying to make it within existing systems. The post above is simply a great example that I saw at the right time. Other than aspiring to control others, the post has no content. It's a headline and link. Mastodon posts can hold 500 characters, but why bother to utilize them to preview a link's content when all you really want is to 'Make Readers Click'⁉️ Finally the link is to Medium, a privately-held, subscription-based platform—pop-ups and paywalls—that I think is incompatible with the essence of the internet.2
My goal in moving to the Fediverse is to escape manipulation, for myself and others. That means I'm not going to be pushing content that takes people to non-Fediverse social media. I'm in the process of moving all my activities here. I do have a YouTube channel, but I'm not going to ask you to subscribe or anything. Sometimes I will embed or link to YouTube. I'm proud of my videos there, but I do not support the site's business model. (I'm sure I'll join PeerTube eventually.)
So everything's proceeding apace here as I move into my ideal neighborhood, the Fediverse. There's always room for more growth. A post by Tofu Golem (@tofugolem@mastodon.social) advises:
The overall design of social media uses Skinner box techniques to addict you. Those likes and shares are randomized reward schedules that suck you in like the pigeon endlessly pushing that button whether it was hungry or not.

Here, those likes and shares are called favorites and boosts, but the effect is the same. Remember to take breaks.
Yes I had badges turned off on my home screen, but I realized that I was looking at the Notifications bell right away every time I opened Mastodon. I felt a sense of dependency as I looked for a red-circled number to be on that bell. I replied to the above toot (Mastodon for tweet):
I find it so refreshing here it "feels healthy" & I'm definitely susceptible to those random rewards. I am trying to pay less attention to numbers & more to people. I thought about silencing notifications but then I feel I'm ignoring potential human connections... It helps to be aware. Your thread helps.
Since then I have disabled all notifications on the website and the app. I am able to open the panel where interactions are still collected. The panel is labeled with a bell even though mine no longer rings.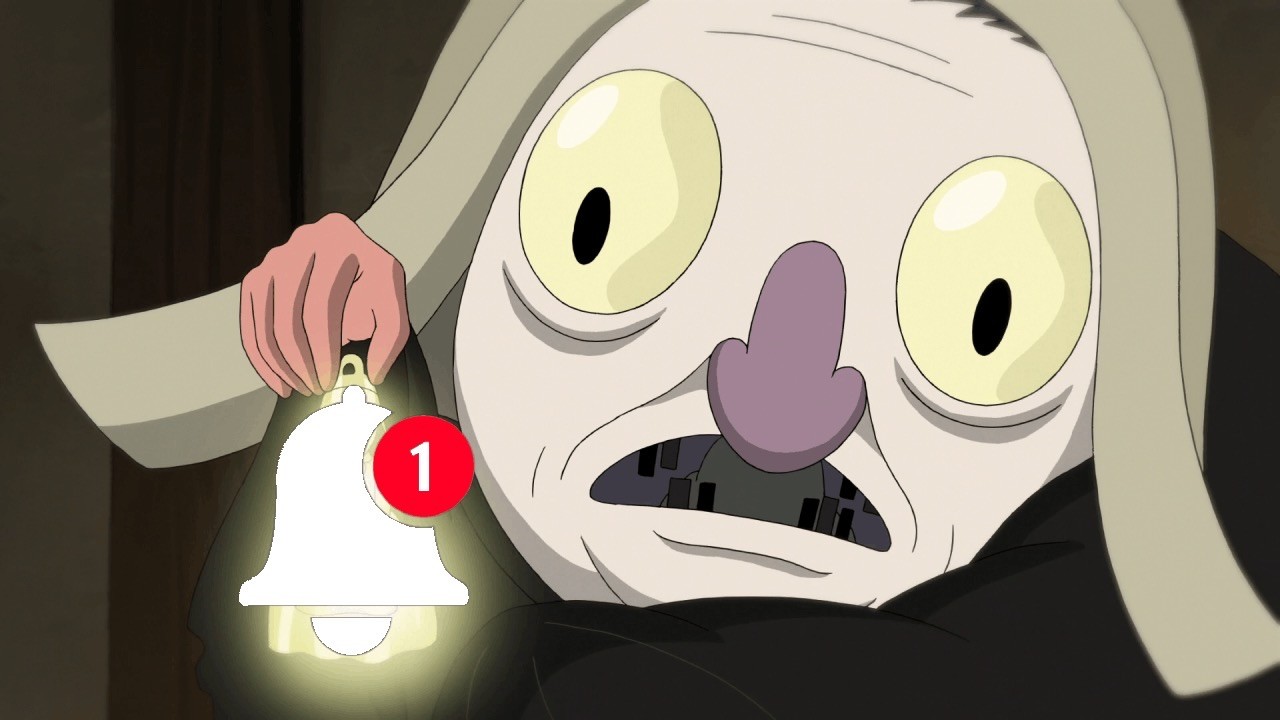 How do you feel when the ringing of the bell commands you?
The image at top and bottom of this post is Auntie Whispers3 from the Cartoon Network Studios production Over The Garden Wall. It is currently available ad-free on Hulu. I highly recommend the series for happy Halloween vibes. In the story when Auntie Whispers rings her bell (in the shape of a woman) it glows and she intones, "The ringing of the bell commands you."
---
1: Incidentally this post is not from an account I follow. It came to my attention due to the hashtags. The 'offending toot' comes from an account that seems fine, someone whom I could easily like. It is in no way the worst post I've encountered on Mastodon. I share because I can fully relate to making such a post. 2: I just popped over there to verify before I wrote the above. I got to read a few introductory paragraphs by someone I don't know before being asked to sign up for an account to keep reading. That's not something I'm willing to do for content I know nothing about. If I had money I might pay for access to well-known content like the New Yorker or National Geographic (do they even have a good website?) but not "just folks" on the web. The model I believe in is what I provide here, free content with support me links for those who are into that sort of thing. (Much thanks!) 3: Voiced by Tim Curry! The voice cast and songs for this production are a treat.