It's Your Kind Of Kitten
Hi folks! It's your friendly neighborhood Karin here! Now is an auspicious time to review my review policy. All reviews are my own unpaid & unsolicited opinions. ~KW
Isabella Kung Knows All About Cats
Isabella Kung is an author & illustrator whose watercolor art has lived rent-free in my mind since the first time I read No Snowball. In an interview with CanvasRebel, Kung said, "Children are amazing and it is an absolute honor to delight and entertain them, to teach and show them our world, to empathize and tell them they are not alone…" This is exactly how I feel about reading with children. She is the perfect author to begin my #WatercolorBooks series. I will be talking about watercolor comics & picture books & their illustrators from both an aspiring artists' perspective as well as that of an experienced preschool teacher, where applicable.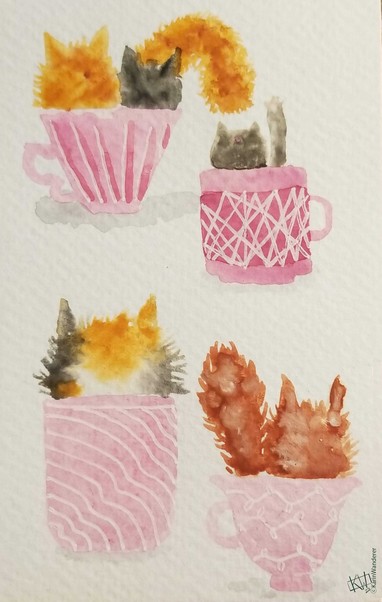 Watercolor cats are a weakness of mine
Kung is the Author/Illustrator of No Fuzzball! & its sequel No Snowball! She captures a wide array of the emotions – & the narcissism – of cats in these two picture books. No Fuzzball features bright illustrations focused around one adorable black cat, the eponymous Fuzzball. Fuzzball is an unreliable narrator, written in such a way as to be age appropriate for preschoolers. As a super fan of dialogic reading, I love this book. Talking about whether or not a character's words match their actions has always led to very interesting talks with my students! In the sequel, No Snowball! the family adopts a new kitten. How will Fuzzball handle it? The answer is so sweet – not to mention so amusingly cat-like! – that this has become one of my standby books for children having trouble with the idea of becoming a 'big sibling'.

I might have gotten distracted from writing this article by painting cats.
Kung is also the illustrator of Lesléa Newman's A B C Cats & 1 2 3 Cats, which required her to illustrate over 120 cats. These books are wonderful! The illustrations are gorgeous. There is a rhythm to Newman's rhyming that makes it extra fun to read, which is good because this seems like the type of book kids are going to want to hear over & over & over again.
Kung is a prolific illustrator whose work has won many awards & honorable mentions. This is one of my favorite of Kung's illustrations, & here is a video of her painting it. Also deserving of mention is that her book titles both have punctuation, putting them in exalted ranks along with classics like Thud! & Guards! Guards!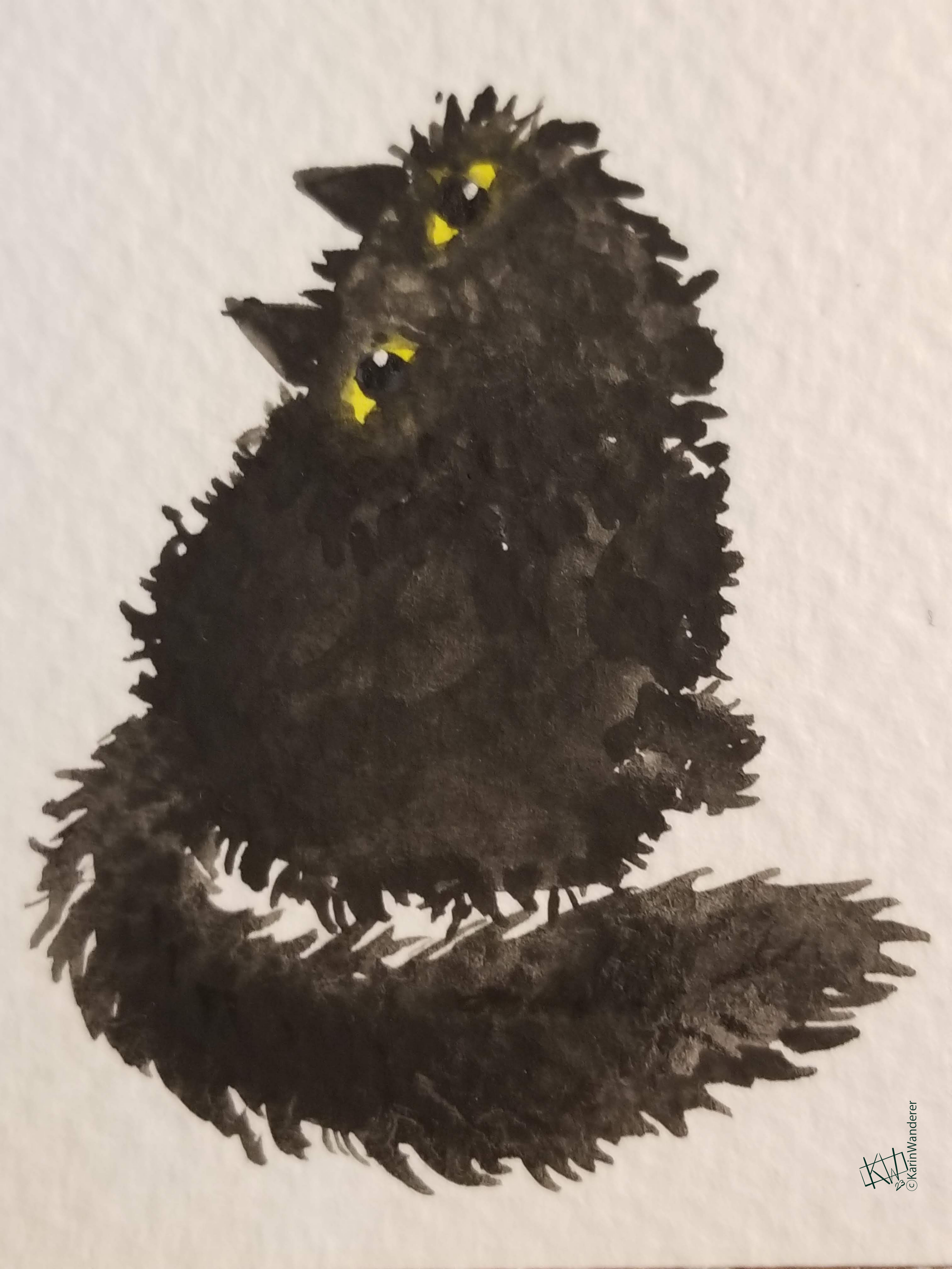 What an adorable ball of demonic rage!
Would you like to know more about Isabella Kung? Is there a picture book or comic book illustrator you want me to talk about? Let me know on Mastodon or Ko-Fi!
Buy my artwork on mugs, notebooks, & stickers in my SPRING SHOP!
Donate to support my works & get cool perks on Ko-Fi
See everything else I do over on Mastodon.Art
All pictures posted are my own work.
All reviews are my own unpaid & unsolicited opinions.